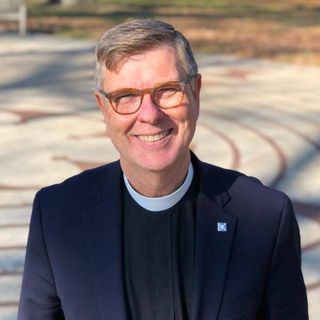 We welcome Rev. Paul Briggs as our interim who will lead us as we begin to explore new possibilities for St. James. 
Rev. Briggs will lead his first worship service on Saturday, November 7th at 5PM in the education building.
You can sign up for Saturday services at: https://reopen.church/r/e4J6p4O6. Remember to bring your own chair.
To get acquainted and ask questions, Rev. Briggs is inviting parishioners to a virtual Coffee Hour via Zoom, to be held on November 8 at 10 AM. Check your email or call the parish office for meetings details.
About Rev. Briggs
Rev. Briggs received a Masters of Divinity from General Theological Seminary in New York. He has served as rector in parishes in TX, MA, and CT. In 2016 he came to PA to serve as interim rector at St. Andrews, Yardley. Paul concludes his most recent position as interim at St. Thomas, Whitemarsh on October 25th.
Paul is married to the Rev. Barbara Briggs, also an Episcopal priest. They have four children: Meghan, Joshua, Matthew, Caleb and three grandsons: Henry, Wilder and Clive.